Are you connected to yourself?

"Your vision will become clear only when you can look into your own heart. Who looks outside, dreams. Who looks inside, awakens". Carl Jung
Do you know your true, authentic self? What are your strengths and weaknesses?
Can you identify your emotions and use them to define your needs, as opposed to holding them back or letting them blow up, thus making yourself frustrated and creating tension with people around you?
Do you know your fears? Are you able to face them and move on?
Do you dedicate time to yourself on a regular basis? Do you enjoy spending time with yourself?
What are your values?
Do you accept yourself in good will and without judgement?
What type of leader are you?
What is your passion? How will you live it?
What is your dream job? How will you get there?
Is there something missing from your life but you are not sure what it is?
You live in a fast-moving, ever-changing, demanding world. You are in a constant sprint to complete tasks on time and with perfection. You forget about yourself, your needs and personal aspirations. You end up suffering from stress, fatigue, physical pain. You feel stuck, your projects are not progressing as you want them to, your relationships are not evolving as you need them to.
What if you took a step back to the basics and considered to look after yourself, listen to yourself and bond with yourself?
Connection to yourself is about bonding with yourself. It is about creating a successful and meaningful relationship with yourself first, before attempting to create successful and meaningful relationships with people around you.
When you are connected to yourself in full consciousness there is flow inside you and around you. There is expression, creativity, productivity. There is personal evolution. You are at your best and you inspire others to be at their best.
Join forces with me to:

Discover your authentic self
Practice grounding and alignment with yourself
Accept and love yourself
Become confident in yourself
Revisit and reinforce your values
Define and defend your limits
Identify your fears and release what blocks you from moving forward
Handle your emotions
Prepare for stressful situations (and relieve yourself from stress)
Identify your true needs
Discover and reinforce your leadership facet
Set short-term and long-term measurable goals
Set actions and commit to them to achieve your goals.
Are you ready to bring together your female power and your male power to create complementarity and harmony?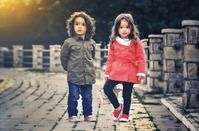 Click below to book your Free 45 minute "Chemistry Call":